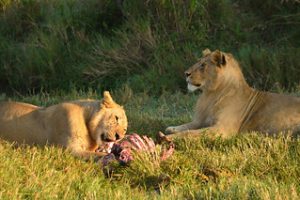 20 Days Kenya, Uganda and Rwanda Safari Vacation is a tour of a lifetime where you will immerse yourself in the natural bounties in these three East African countries – Kenya, Uganda and Rwanda. Begin your journey with the wildlife parks in Kenya to see plenty of animals including the Big Five in the national parks of Amboseli where you will marvel at the huge elephants under the gazing Kilimanjaro. Visit Lake Naivasha, the Great Masai Mara and the gorgeous Lake Nakuru. Fly to Uganda from Nairobi for more unique adventures of Gorillas, Chimpanzees, tree climbing Lions and many other amazing things. Cross over to Rwanda for the Golden Monkey treks, Canopy walk, Kigali city tour, Ibyacwu cultural Village tour, among others.
Itinerary for 20 Days Kenya, Uganda and Rwanda Safari Vacation
Day 1 – Arrival at Nairobi Jomo Kenyatta International airport
Upon arrival for your 20 Days Kenya, Uganda and Rwanda Safari Vacation, you will be met by our guides and drivers who shall brief you about your trip. You will later be transferred to a booked city hotel to check in and rest after a long flight.
Day 2: Nairobi – Amboseli National Park, 4hrs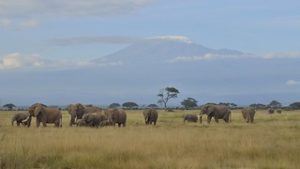 After breakfast you will drive to Amboseli national park where you will arrive in time for lunch. After noon at leisure. In the afternoon, go for your first game drive. The Park is famous for being the best place in Africa to get close to free-ranging elephants among other wildlife species. The ecosystem is mainly savannah grassland, spread across the Kenya-Tanzania border. Other attractions of the park include opportunities to meet the Masai and spectacular views of Mount Kilimanjaro, Africa's highest peak and the highest free-standing mountain in the world. You are to do a game drive to see animals alongside great views of the Kilimanjaro. Lunch, dinner and overnight at the lodge.
Day 3: Amboseli to Lake Naivasha, 6hrs
After breakfast, drive to Naivasha. On arrival check into your hotel and have lunch. Afternoon at leisure as you enjoy a boat ride on Lake Naivasha. Lake Naivasha is a beautiful freshwater lake, fringed by thick papyrus and many bird species as well as hippos. The waters of the lake draw a great range of game to these shores. Giraffes wander among the acacia, Buffalo wallow in the swamps and Colobus monkeys call from the treetops while the Lake's large hippo population sleep the day out in the shallows. Return to the lodge for dinner and overnight.
Day 4: Nivasha – Masai Mara Game Reserve, 4hrs
After breakfast, check out and drive to the world-famous Masai Mara National Reserve via Narok Town. Arrive and commence on a game drive. Check in and lunch at the lodge. Afternoon game drive in Masai Mara and back to the lodge/camp for dinner and overnight.
Day 5: Masai Mara National Game Reserve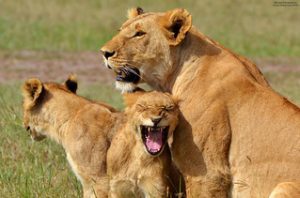 Breakfast at the lodge then proceed for a morning game drive in the reserve. Carry lunch boxes ready for a full day. Embark on an afternoon game drive in the reserve until sunset. You can visit Masai Village this evening. Dinner and overnight stay at the lodge. You have the choice of going out on full day game drive with picnic lunches or half day drives. Masai Mara offers a unique variety of animals and it's where the Great Wildebeest Migration takes place in the months of July to October.
Day 6: Masai Mara – Lake Nakuru, 4.5hrs
After breakfast you will drive to Nakuru Arrive in time for lunch and check in at the lodge. Afternoon enjoy a game drive at the Nakuru National Park. Later get back to the lodge for dinner and overnight. Lake Nakuru is one of the Rift Valley lakes at an elevation of 1,754 m (5,755 ft) above sea level. It lies to the south of Nakuru in the rift valley area of Kenya. The lake's abundance of algae used to attract a vast quantity of flamingo that famously lined the shore. Other birds also flourish in the area, as do warthogs, baboons, and other large mammals. Eastern black rhinos and southern white rhinos have also been introduced.
Day 7: Nakuru – Nairobi(4hrs) – Flight to Entebbe(1hr)
Leave the camp after breakfast. You can have a sunrise game drive if your flight to Entebbe is for late evening. Else, we shall have to leave early morning for the 4 hours drive to Nairobi airport to check in for the flight to Entebbe. On arrival at Entebbe, you will be received by your driver/safari guide and transfer to the hotel.
Day 8: Kampala to Jinja, 2hrs
We shall have this day for a relaxed tour of Jinja and the s
ource of River Nile. Jinja is dubbed the adventure capital of East Africa because of its range of adventure places and activities. From Entebbe or Kampala, we shall break off at the Kayanja to see the Sezibwa falls, continue to Mabira Forest and finally to Jinja for a relaxing boat ride taking to the Source of River Nile after lunch. Check into your lodge early evening to refresh and evening relaxation.
Day 9: Jinja to Kibale National Park, 6hrs
After breakfast at the lodge, take the last gaze at the mighty Nile as it smiles as the morning sun rays. You will drive to Kibale National Park via Mityana and Mubende towns with a lunch break in Fort portal tourism city. Leaving Fortportal after lunch, you will be treated to the spectacular views of the Rwenzori Mountain ranges, tea plantations and the crater lakes as you advance to your lodge. Check in and refresh. Evening visit to the Bigodi wetland for a swamp walk that takes about 2-3 hours. The walk involves an interaction with the local communities from whom you get to learn about their day today lives. Deep into Bigodi wetland sanctuary are 8 primate species, over 200 bird species, various reptiles and different butterflies. Return to the lodge after this exciting walk.
Day 10: Chimpanzee Trekking and Queen Elizabeth National Park
Drive to Kanyanchu park headquarters after breakfast to have a briefing about the Chimpanzee trekking activity. Ascend to the forest with your informative guides and rangers who shall make the trek interesting and exciting with their passionate talks about the Chimpanzees and the forest. You shall be cautioned to adhere to the Chimpanzee trekking rules and regulations as you approach the animals. When around them, it's strictly one hour of photographing and observing their daily routine of grooming, playing and foraging. It's quite an incredible experience! Check out of the forest to drive to Queen Elizabeth National Park for an evening boat safari on Kazinga Channel. Check into your lodge for dinner and overnight.
Day 11: Lion Trekking and Ishasha Tree Climbing Lions
Wake up very early for breakfast before joining a group of researchers for the Lion tracking experience in the park. After embark on a game viewing drive to Ishasha sector of the park. You may not have had the lion trekking experience in Kenya so Queen Elizabeth National Park is offering it on top of the Tree climbing lions at Ishasha. The sights of these big cats hanging up in the fig trees are so incredible! Expect to spot other savannah inhabitants on your search for the tree lions. Check into your lodge for dinner and overnight rest.
Day 12: Ishasha to Bwindi Impenetrable National Park
Watch the sun rise over the Ishasha plains, have breakfast, and have a last chance on the tree lions. Exit Ishasha for a drive to Bwindi Impenetrable National Park. Check into the lodge and have lunch on arrival. Evening relaxation or visit the communities around the park for a cultural experience.
Day 13: Gorilla Trekking at Bwindi Forest
Wake up very early for breakfast and prepare well for the Gorilla Trekking activity. With your packed lunch boxes, rain gear and drinking water, drive to the park headquarters for the general briefing conducted by the head ranger. Pick walking sticks, hire a porter (not a must) and ascend to the forest following your allocated guide and rangers who shall lead you to where the Gorillas were last seen the previous evening so that you start trekking them.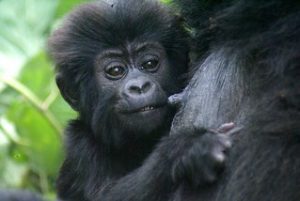 It can take 1 to several hours trekking through a physically demanding terrain. The beauty of this forest however is the surrounding scenery plus the sounds and sightings of several birds that shall keep you moving until you find the amazing Gorillas. Follow and photograph them for one hour after finding them. Check out of the forest and drive back to your lodge for relaxation for the remaining part of the day.
Day 14: Bwindi to Lake Bunyonyi
Check out of the lodge, have breakfast and thereafter drive for 2 hours from Bwindi to Lake Bunyonyi in Kabale. Check into your lodge as you wait for lunch to be served. Afternoon take a boat ride on Lake Bunyonyi to traverse its islands including the punishment island where girls were abandoned to punish them for getting pregnant before being married off by their parents.
Day 15: Lake Bunyonyi to Volcanoes National Park
Check out of the lodge after breakfast and embark on a scenic drive to Rwanda through Katuna border post. With some stopovers for photos, you will enjoy different sights and winding roads in this land of a thousand hills. Reach Musanze and check into your Lodge. Evening Ibyacwu cultural village tour.
Day 16:  Golden Monkeys and Diane Fossey Hike
This morning after breakfast, transfer to Volcanoes Park headquarters at 7.30am to attend a briefing preceding the Golden monkey expedition. Leave Kinigi park headquarters and drive to the trek starting point located between 30 and 40 minutes away.  Right after the Golden monkey trek, continue with the hike up to Karisoke Research center established in memory of the late Dianne Fossey, an American Primatologist who dedicated all her life to conserving the Gorillas. Return to the lodge and rest the remaining part of the day.
Day 17: Lake Kivu
Lake Kivu is 110KMs away from Volcanoes National Park and this can take approximately 2 hours of driving. After a leisurely breakfast at the lodge, check out and transfer to Lake Kivu for relaxation and a boat cruise. Dinner and overnight at your preferred lodge.
Day 18: Nyungwe Forest Canopy walk
After a leisurely breakfast at the lodge, drive to Nyungwe Forest park to register for the afternoon canopy walk. Nyungwe Forest National Park is a wild habitat to approximately 13 primate species including the endangered Chimpanzees. Apart from the canopy walk experience that enables you an aerial view of the forest and its wildlife, nature walk lovers can further be enthralled by its Igishigishigi trail with in the forest. Return after the canopy walk and drive to the lodge. Check in, dinner and overnight.
Day 19: Nyungwe Forest Park to Kigali Capital City
After breakfast, take a morning tour of the nearby tea factory to witness how the locally grown tea is processed to become one of the finest products Rwanda has for export. You will then embark on a 6-hour drive to Kigali capital city. There are opportunities to visit Butare Genocide Museum and Nyanza King's palace.
Day 20: Kigali city tour, Genocide memorial site visit and transfer to Kigali International airport for your flight back home. End of the 20 Days Kenya, Uganda and Rwanda Safari Vacation.